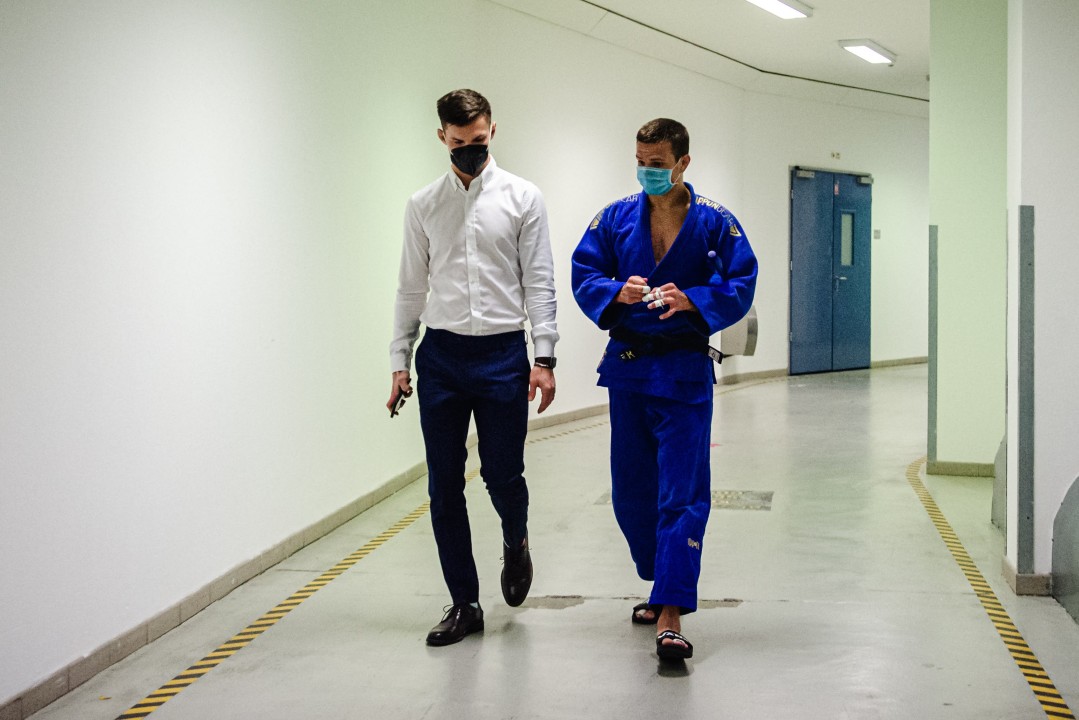 I'll put this picture here. It's from the 2020 European Judo Championships in Prague at the O2 Arena and it's a highlight for me.
But from the beginning…
I started working with the Czech Judo Federation by asking them to let me do their social media. I took care of them for a year and a half almost for free in my spare time. I even paid my own way to Georgia for the grand prix to get the content.
Then I found out that the European Judo Championships were coming up at the O2 Arena. "I have to be there!" I knew.
So I started knocking on the federation's door again. "I'll get sponsors!", "I'll build you a website!", "I'll prepare the infotainment on the cube for the fans!" They didn't take me too seriously.
The turning point came when the federation hired Ondrej Novotny froM OKTAGON MMA to set up the event for them. I knew him from the time when he was a speaker at the ice-hockey club Slavia Prague in the O2 arena. We had a meeting and flew to Minsk for the European Games in May 2019. Me on social media, Ondrej to soak up and understand judo. For the same purpose we flew to Tokyo in September 2019 for the World Championships.
Then Ondrej quit and I took over his job. A cranky kid who doesn't know what is going on.
Anyway, the preparations continued and I gradually took more and more responsibility under me. Promotion, show, taking care of partners, merchandising, etc. I devoted hundreds of hours of my free time to it. I brought in people who are the best in their field in the Czech Republic. And I learned as I went along.
It all materialized last week in an event that hadn't been in the Czech Republic for 30 years, was born in tremendous pain, and which the European Judo Union will now set as a model for other organizers. In spite of the ongoing pandemic and tough measures.
I started and ended as a different person. Better, tougher, more confident.
That's my brother in the photo with me, who fought at the European Championships. I'm escorting him backstage at the O2 arena after losing a match. Just as I've been guided and taught by other people on my journey. And I'm excited to see where our steps will lead next.
---
401 Words
2020-11-23 09:17
---